Homepage

>

Tree climbing in the large park of Figuerolles
Tree climbing in the large park of Figuerolles
The Grand Parc de Figuerolles is a family park located in Martigues. Of 130 ha, it allows the practice of outdoor leisure such as tree climbing, pony rides, walks or bike rides, the discovery of the educational farm ... Green lung of the city, it promotes long walks along the Berre pond among the pines, olive trees and oaks. Several picnic areas are arranged to enjoy the surrounding calm and the view overlooking the body of water.


Delphine has tested a family tree climbing trip for you. Young and old alike were able to try out fun treks in the trees during one afternoon.
Take a look back at this fun day with Indian Forest!
This year we decided to do some sport
in the middle of our lazy beach vacation

We were lucky enough to be able to discover the tree climbing course in the Figuerolles park.
The park is really pleasant when the weather is hot because it is very shaded and there is also an educational farm, a pony club which allows all ages to find their happiness.
The Indian Forest offers 7 progressive courses; these high acrobatic courses are suitable for all levels, beginners or experienced, and for all ages (accessible from the age of 4).
We still remember the aches and pains of the next day but quickly forgotten by remembering the sensations we felt as we hurtled down the endless zip lines that took us over the park.
A great time with the family that we will not fail to repeat during our next stay in Martigues.
.
Adult rate : 15€ (17€ one the spot)
Junior rate 7-11 years : 12€ (14€
one the spo
t
)
Kid rate 4-6
years
: 9€ (11€
one the spo
t
)
FICHE_INFO_LIAISONS_AFFINITAIRES
Until further notice: the playgrounds, the riding school and the equestrian center remain closed to the public for the time being.Educational farm: ...
As part of the physical distancing measures linked to Covid 19 and due to an increase in attendance at the municipal educational farm in Figuerolles, ...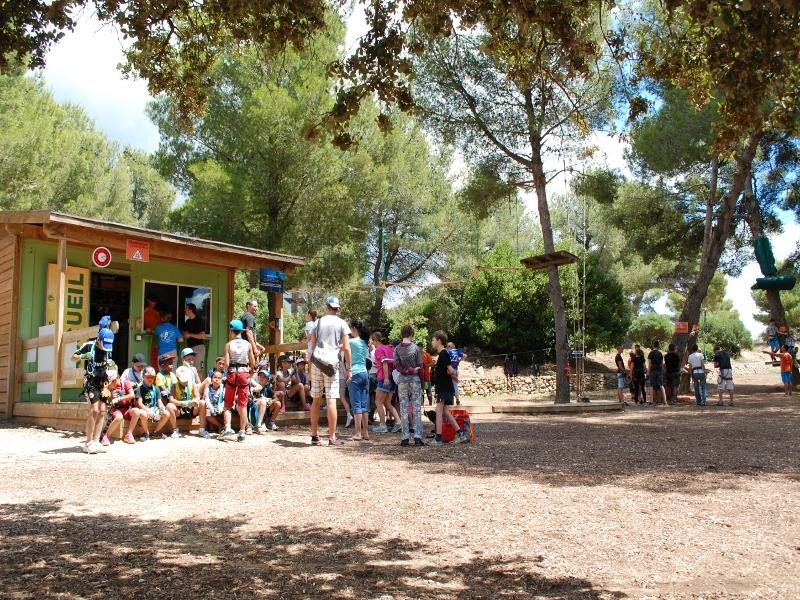 Sportsmen, lovers of nature and thrills, come and discover the Indian Forest tree climbing courses at the Grand Parc de Figuerolles. With family or ...