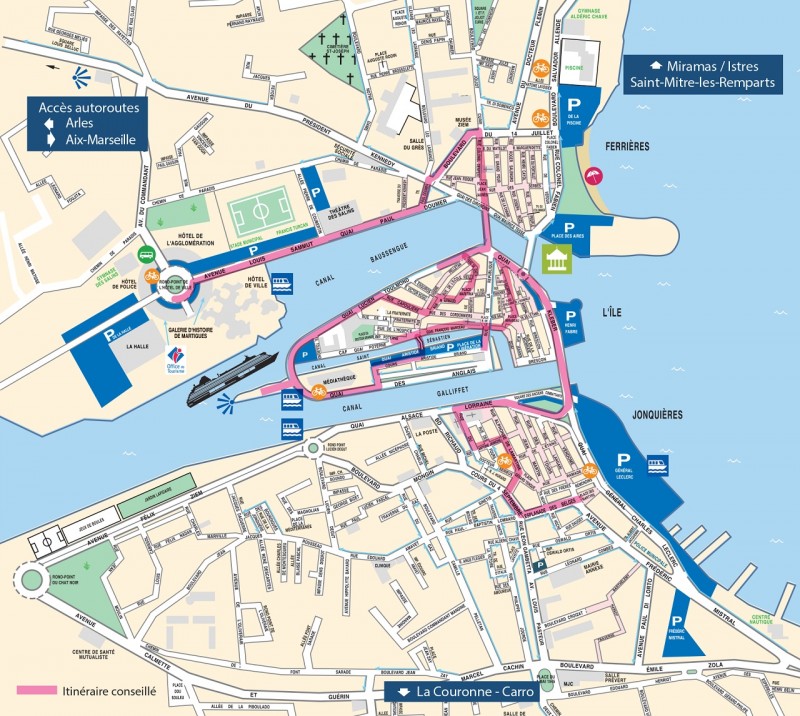 A tourist resort listed for its Art and History, Martigues, also known as Provençal Venice bathes in a special light which has attracted the most famous painters and many film-makers.

The city is in a premier location between the Étang de Berre (candidate for UNESCO world heritage listing) and the Mediterranean Côte Bleue coastline, harmoniously lined with coves, beaches and small harbours, not far from Aix en Provence, Arles Alpilles, and Marseille.

Visitors can wander along canals, shores and coastline to discover the rich cultural heritage of this city, so attached to its fascinating past.

Martigues - whether for a stop over or a destination in itself - has accommodation, local shops and services in the city centre near the landing stage.

The city's strategic location in the region makes it ideal for cruise passengers wanting to discover major attractions within a 30-minute drive, including Marseille, the Pays d'Aix en Provence and as themed walking tours of untouched Provençal nature.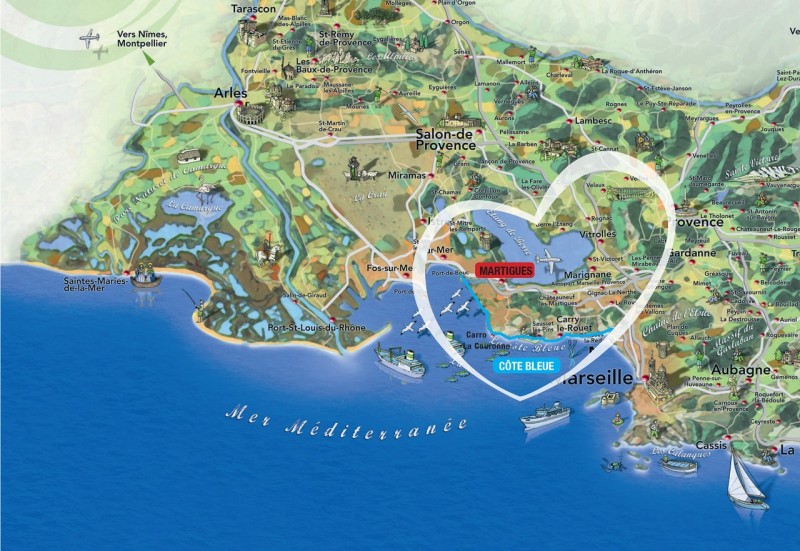 Getting to the landing stage
Getting to Martigues?
From the TGV high-speed railway stations: TGV d'Aix-en-Provence, Marseille Saint-Charles and the Marseille-Provence airport (30 minutes), Martigues is accessible by bus, train, taxi or hire car.
Getting to Martigues by plane or train?
→ Transfer organised by the company
CroisiEurope proposes transfers from your region to your embarkation by plane and/or train.
Contact the company for more information about availability and tariffs.
→ Transfers by public transport
• From the airport
Shuttles from Marseille-Provence airport → Martigues every hour.
Tariff (non-binding): €4.30p.p
• From Marseille
- Direct bus line from Marseille in 40 minutes
Line 38, Marseille → Martigues /
www.lepilote.com
- The Côte Bleue train between Marseille and Martigues
Information →
www.ter.sncf.com/paca
→ Taxi transfers
From Marseille Provence airport (approx. €35 day-time rate) or the Gare Saint-Charles railway station (approx. €65)
Travelling by car
The port is near Avenue Louis Sammut, behind the town hall.
Parking
/ Parking La Halle - Avenue Louis Sammut